Interpretive Exhibits at Simpson Reef Overlook – New "Simpson Reef and Shell Island" brochure – 2010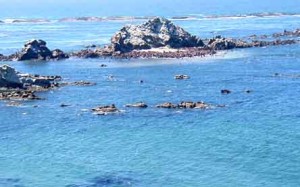 In September of 2003, new interpretive panels and a way-finding kiosk were installed at the Simpson Reef overlook south of Shore Acres. The project was the culmination of a long planning process, which also included the construction of a new parking lot and viewing platform. Partners in the project included the U. S. Fish and Wildlife Service, the Oregon Parks & Recreation Department, Friends of Shore Acres, Inc., Shoreline Education for Awareness (SEA), Bureau of Land Management, the Oregon Department of Transportation. and the Federal Highway Administration.
The cost of the interpretive display was shared by three of the groups: Friends of Shore Acres Inc. contributed $6,000, administered the contract and assisted with design. U.S. Fish & Wildlife Service contributed $10,000 and assisted with design and fabrication. The Oregon Parks & Recreation Department also assisted with design and is responsible for installation and maintenance.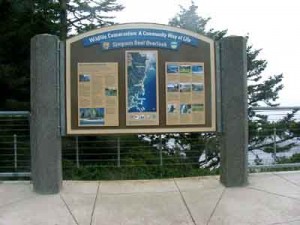 From the overlook, located in Cape Arago State Park, visitors enjoy breathtaking views of Shell Island and Simpson Reef, part of Oregon Islands National Wildlife Refuge. Simpson Reef is one of the few places on the Oregon coast where visitors can literally see thousands of marine mammals. The overlook is fully accessible and has three permanent benches.
Shoreline Education for Awareness (SEA) Docents are present from 10am – 4pm on Saturdays, Sundays and Holiday Mondays from Memorial Day thru Labor Day.
One of the new interpretive panels provides visitors with tips on identifying and locating the four species of pinnipeds (seals and sea lions) that regularly haul out on Shell Island. A second panel provides detailed information on the life history of the harbor seal, norther elephant seal, Steller sea lion, California sea lion and California gray whale, species regularly seen from the Simpson Reef Overlook. The way-finding kiosk will direct visitors to other sites within the vicinity where they can enjoy natural resources or historic places. For unparalleled views of Oregon's spectacular coastline and even rarer glimpses of its marine life, visit Simpson Reef Overlook any day of the year.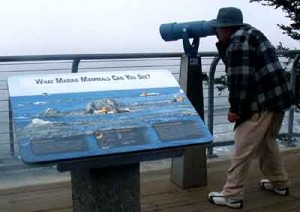 The U.S. Fish and Wildlife Service is the principal Federal agency responsible for conserving, protecting and enhancing fish, wildlife and plants and their habitats for the continuing benefit of the American people. The Service manages the 95-million-acre National Wildlife Refuge System which encompasses 542 national wildlife refuges, thousands of small wetlands and other special management areas. It also operates 70 national fish hatcheries, 64 fishery resource offices and 81 ecological services field stations. The agency enforces Federal wildlife laws, administers the Endangered Species Act, manages migratory bird populations, restores nationally significant fisheries, conserves and restores wildlife habitat such as wetlands, and helps foreign governments with their conservation efforts.
You will find a links to some of the project partners on our "Links" page.