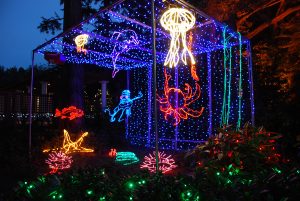 34th annual Holiday Lights at Shore Acres – Nov. 26 thru Dec. 31, 2020 – "a community tradition" – at least 325,000 lights (almost all L.E.D.)
Parking fee: $5 per vehicle or current OPRD Annual Parking Pass or Coastal Passport or current OPRD Campground Receipt or current Special Access Pass. No credit/debit cards accepted. No additional charge for lights viewing. Donations Accepted.
Ultimate Bed & Breakfast Raffle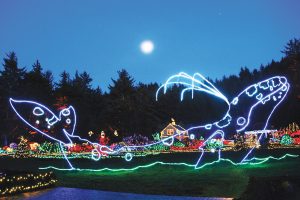 Information & Gift Center Open every night!
A community event sponsored by Friends of Shore Acres, Inc. in partnership with Shore Acres State Park, Coos Bay, Oregon
The brightest and most beautiful place on the West Coast shines as brightly as ever this season.
LIGHT SCULPTURES: Pelicans, Puffins, Jellyfish, Shore Acres= Cranes, Life‑size leaping Orca whale, Life‑size spouting Gray whale, Tulips, Rhododendron, Rose, Dahlia, Dungeness crab, Sea Star, Sea Urchin, Sea Anemone, Sea horse, Octopus, Kelp, Mushrooms,  Frogs, Butterflies, Dragonfly, playful Sea Lions, Leaping Frog in pond, Ship, Fuchsia flower and animated Hummingbird, Koi carp, Lighthouse, animated Bumble Bee, Porcupine, Raccoon, Deer and Rabbit, Shasta Daisies and Ladybug, animated Seagulls and Crabs, a New animated Orca Display (2016), a New animated Dolphin Display (2017) and more!
For more information, contact: Shore Acres State Park – (541) 888-3732; Co-Chair – Shirley & David Bridgham (541) 756-5401, bridgham@epuerto.com
HISTORY
A community tradition was born in 1987 when the Friends of Shore Acres decided to "string a few lights" to help celebrate the holidays. That first season, 6,000 miniature lights, one Christmas tree, and the decorated Garden House drew 9,000 visitors.
Now, at least 325,000 lights (mostly LED), 30 large landscape lights, dozens of small landscape lights, 30 large holiday trees, dozens of lighted sculptures, and a beautifully decorated Garden House draw – on average – 50,000 to 70,000 visitors each season. Numbers vary with the weather. Inside the Garden House, scrolls of names are a tribute to business supporters, members and the more than 1,500 volunteers who make it happen.
UPDATES
2017: at least 325,000 LED lights, animated Dolphin display, 45′ life size Gray Whale completely re-done, Amanita mushroom completely re-done
2016: at least 325,000 LED lights, purple Dolphin in the Undersea Garden, Porcupine joined the Exile Gate, new animated Orca display
2015: 325,000 LED lights and 2 new sculpture displays: animated Seagulls in the Entrance, animated Red Crabs in the Undersea Garden
2014: At least 300,000 LED lights and 2 new sculpture displays: Raccoon, Deer and Rabbit; Shasta Daisies and Ladybug
2013: At least 300,000 LED lights and 2 new sculpture displays: Lighthouse and Animated Bumble Bee
2012: At least 300,000 LED lights and new sculpture Koi Carp underwater in the pond
2011: More than 300,000 LED lights and new sculpture Fuchsia Flower and Animated Hummingbird
2010: More LED lights and new ship sculpture "Western Shore"
2009: More LED lights and large holiday trees at entrance
2008: More LED lights and surprises!
2007: More LED lights including L.E.D. rope lighting on the 45' whale sculpture.
2006: More LED lights.
2005: New puffin sculptures, brilliant LED lights on all large Christmas trees, more large landscape lights on west perimeter huge trees
2004: New spout on life‑size gray whale, 2 giant butterflies, 2 large mushrooms, specially designed and handcrafted cluster flowers
2003: New entry and deck and a new Information and Gift Center (IGC) greet you as you enter the Gardens. Both the entry and IGC reflect the original designs of the early Simpson Era.  Animated leaping frog in pond.
2002: New Pavilion for musical and vocal presentations.
2001: Animated sea lions and additions to the undersea garden.