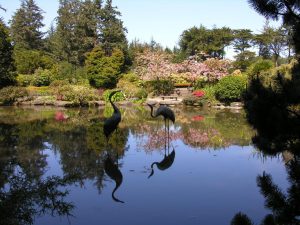 In 1985, the state of Oregon passed legislation to enable private, non-profit cooperatives to work with state parks. Their mission: to provide educational and interpretive services to state parks and their visitors.
On December 4, 1986, an organizational meeting of the Friends of Shore Acres was held in Room 12 of Sumner Hall at Southwestern Oregon Community College in Coos Bay.   Twelve people attended.  They were Andy LaTomme,  Park Manager; George Guthrie, Shore Acres Landscape Maintenance Superintendent;  Ron Hjort, Oregon State Parks;  Mike Bodkin; John Bergen;  Karen Wuethrich; Marty Giles; John Garner; Dick Hansen; Tony Mason; Shirley Bridgham; and David Bridgham.
Our Mission Statement . . . "The purpose of Friends of Shore Acres, Inc. is to participate in Interpretive, Educational, and Physical Development Programs with Sunset Bay State Park District (now Sunset Bay Management Unit)."
Since 1986, the Friends have participated in many activities in cooperation with Shore Acres.
Interpretive and Educational: garden plant identification signs, interpretive brochures, slide shows, videos, replacement of plants, intertidal walks, garden walks, annual pond cleaning, annual flower and plant days (bonsai, daffodils, rhododendrons, roses, fuchsias, dahlias, orchids), newsletter, and anniversary celebrations. Other activities: parking permit discount program for members, funding for "Old Garden Roses" garden, funding for study by Stephen Dow Beckham (The First Simpson House 1907-1921), archaeological dig by Oregon State University and funding for new interpretive panels in the Observation Building in 2011-12.
Physical Development Programs: Complete list in our History and Membership Brochure
The annual Holiday Lights event, which began in 1987, has grown from 6,000 miniature lights and one Christmas tree to at least 325,000 holiday lights (almost all LED), 26 Christmas trees, many lighted sculptures (some animated), and landscape lights on the huge trees surrounding the garden. The event, which is a "community tradition," is accomplished with more than 1500 volunteers, state park staff and the financial support of local businesses, the community and about 50,000 visitors who attend each season.
All of the Friends' activities are done in cooperation with Shore Acres State Park and the Sunset Bay Management Unit. The outstanding cooperation of everyone involved sets an excellent example for other similar groups to follow.
Friends' members (about 250) benefit from Information & Gift Center discounts, many volunteer opportunities, and the satisfaction from knowing they "make a difference" for the Oregon Parks & Recreation Department and the state of Oregon.
BOARD MEMBERS 2021
President Kathi Netter
Secretary David Bridgham
Treasurer Barb Taylor
Shirley Bridgham
Dora Daniels
Ray Daniels
Betty Kennedy
Lou Kolkhorst
Dennis Netter
Robynn Reed
Pam Stevens
Dell Willis
Roberta Willis