"Thanks for visiting our web site."
Shore Acres State Park
Shore Acres State Park is open daily from 8:00 AM to Dusk Year 'Round. The Information & Gift Center (IGC) is open daily from 10:30 AM-4:30 PM. From Nov. 25 thru Dec. 31, 2021 the IGC Hours will be 10:00 AM-3:00 PM.
HOLIDAY LIGHTS AT SHORE ACRES 2021 CANCELED – With deep disappointment and regret, Friends of Shore Acres, Inc. and the Sunset Bay Management Unit of the Oregon Parks and Recreation Department (OPRD) announce that the 34th Holiday Lights at Shore Acres 2021 is canceled due to the uncertainty of the COVID-19 Pandemic and its potential risk to the health and safety of volunteers, visitors, and park staff. Our traditional 50-60 thousand visitors represent local, state, national and international communities, increasing the potential for spreading COVID-19 among our most vulnerable populations, many of whom volunteer and host this event. For more information, contact David and Shirley Bridgham, Co-chair Holiday Lights since 1987, 541-756-5401 or Sunset Bay Management Unit, Lee Ricci, 541-888-3778, ext. 223.
In the meantime, please enjoy the video tour created by Allan Ledesma of EPUERTO.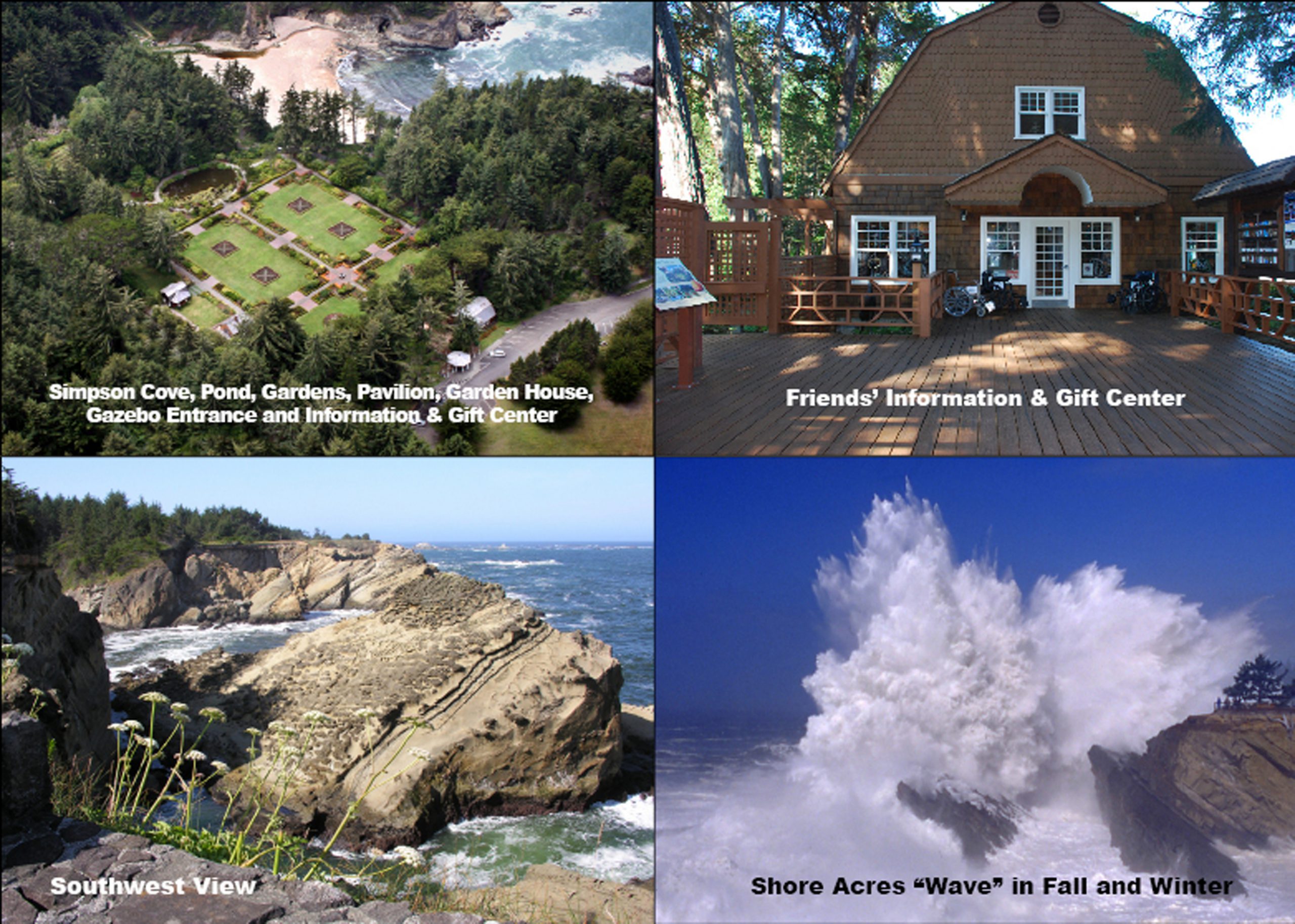 NO DOGS OR OTHER ANIMALS ALLOWED OUTSIDE VEHICLES
EXCEPTION: SERVICE ANIMALS | 541 888 3732 | SOME WHEELCHAIRS AVAILABLE
PER VEHICLE PARKING FEE – Free with current OPRD Annual Parking Permit, or Coastal Passport, or current Campground Receipt posted in your windshield.

$5.00 Cash

when entrance booth is open or in a machine when the booth is closed.

Credit cards and Debit cards are not accepted.

Checks are accepted when the entrance booth is open.
Park Hours: 8:00am to Dusk – Varies with time of year. Observe posted closing times at entrance.