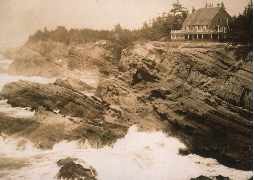 Perched on a scenic bluff above the Pacific Ocean, Shore Acres began as a private estate with luxurious gardens featuring trees, shrubs, and flowering plants brought from around the world aboard the sailing ships of pioneer lumberman and shipbuilder Louis J. Simpson.
Simpson developed the summer home into a showplace three-story mansion complete with a heated, indoor swimming pool and a large ballroom. The grounds contained five acres of formal gardens, including a Japanese-style garden built around a 100-foot lily pond.
When fire destroyed the mansion in 1921, Simpson began to build an even larger replacement – two stories high and 224 feet long. However, financial losses in the 1930s caused both house and grounds to fall into disrepair. In 1942, Simpson's beloved Shore Acres was purchased by the state of Oregon for use as a public park.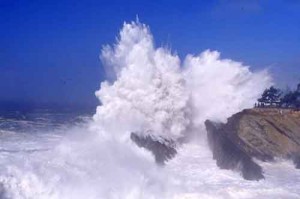 While structural deterioration eventually forced the mansion to be razed, the restored formal gardens continue to attract thousands of visitors. The garden features year-round displays of floral and scenic beauty and the annual "Holiday Lights at Shore Acres" from Thanksgiving through New Year's.
A fully enclosed observation building now occupies the site of Simpson's mansions, offering spectacular view of rugged seascapes, towering storm waves, and glimpses of migrating whales from December through June.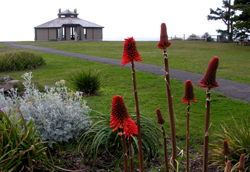 One mile north of Shore Acres, Sunset Bay State Park offers extensive picnic and overnight camping facilities. One mile to the south, Cape Arago State Park has hiking trails, picnic tables, and excellent opportunities for viewing tidepools life and marine mammals (whales, seals, and sea lions). A hiking trail, which is part of the Coast Trail, also connects the three parks. South of the park is the newly renovated Simpson Reef interperative stop. View the seals, sea lions, elephant seals and other marine life from the new viewing deck. Please do not bother the seal pups you may find on the beach. They are not lost, only waiting for mom to return. Also, the bleeding, hurt looking elephant seals are not dying. This is only a molting process they go through while resting before continuing their journey.
Seasonal Peak Bloom Periods
Ever since its beginnings as Louis Simpson's private estate, the plantings at Shore Acres have been designed to take advantage of the area's mild climate. They have created a "garden for all seasons" – with showy "peaks" of different kinds of flowers every time of the year.
Hundreds of spring bulbs and daffodils – late Feb. thru March
8,000 tulips – late March thru April
Hundreds of rhododendrons and azaleas – April thru mid-May
5,000 flowering annuals/perennials – May thru Sept.
800 rose bushes – June thru Sept.
250 dahlias – Aug. thru mid-Oct.
300,000 or more holiday lights (almost all L.E.D.)- Thanksgiving thru New Year's Eve.
Hundreds of spring bulbs and daffodils – late Feb. thru Mar.
Year-round Flora
· Interesting and unique flowers, evergreen shrubs and trees, including the largest Monterey pine in Oregon. Bloom times are based on normal/average conditions at Shore Acres and may vary. If you have questions, please talk to a member of the garden staff or call 541-888-3732. Please be sure to leave your name and address or phone number if you reach the recording and would like a response.
Location
Shore Acres State Park is located on the Cape Arago Highway, 13 miles southwest of Coos Bay/North Bend and U. S. Highway 101. The park is open every day from 8 a.m. to dusk. Please check posted times at park entrance for exact closing times. A nominal daily vehicle parking fee is charged. Annual day-use permits are available for purchase. Now available for either 12 or 24 month periods. Your camping receipt from Sunset Bay State Park or any other state park campground is accepted as a daily permit for those days registered. Display the receipt on the driver side of your dashboard when visiting Shore Acres State Park.